Boreal Birding in the Adirondacks
With Gabriel Willow
Friday, July 3 - Monday, July 6, 2020
Please note this is a sample itinerary and may be subject to change!
Tour Itinerary
Friday, July 3, Day 1: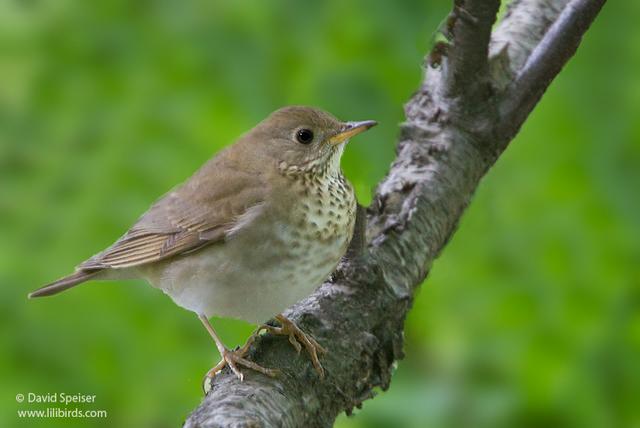 Bicknell's thrush, copyright David SpeiserWe depart NYC at 8am and drive to Amanda's Village Motel in Saranac Lake, stopping somewhere scenic en route to eat our packed lunch. We should arrive in Saranac Lake by 3pm, giving us plenty of time to unpack and unwind before taking an afternoon hike on the Boreal Life Nature Trail at the nearby Paul Smith's College (www.adirondackvic.org/BorealLife.html). We will return to Saranac Lake for dinner and an early bedtime, as we will get up very early Saturday to search for the rare and elusive Bicknell's Thrush.

Saturday, July 4, Day 2:
Celebrate the 4th of July with a dawn tour up Whiteface Mountain to see the elusive Bicknell's Thrush (an endemic thrush that only breeds on high mountaintops in upstate NY, New England, and Quebec), and other high-elevation boreal birds. Local expert Joan Collins will meet the group at our hotel and we drive up the Whiteface Veterans Memorial Highway at 4:30 a.m. (thrushes are early birds!). Birding will be at roadside stops with short walks along the road. We will continue birding in mixed forest and lowland boreal habitat areas west of Whiteface Mountain. Birding will be at roadside stops and along several (fairly short) walks on level terrain. We will search for black-backed woodpecker, yellow-bellied and olive-sided flycatchers, gray jay, boreal chickadee, palm warbler, Blackburnian warbler, and other boreal breeding birds. Dinner in Saranac Lake or Lake Placid, before being lulled to sleep by the haunting calls of common loons.
Cascade Mt, Adirondacks, US, photo by GijsK*

Sunday, July 5, Day 3:
Common Loon, copyright Lloyd SpitalnikSunday will find us in scenic, remote boreal habitat areas such as Massawepie Mire, Spring Pond Bog (both Important Bird Areas) or Blue Mountain Road. These locations offer wonderful birding and stunning scenery. The birding location(s) chosen will depend on species of interest to the group, physical ability of the participants for walking, and weather conditions. We will search for such species as common loon, broad-winged hawk and northern goshawk, spruce & ruffed grouse, pileated, black-backed & American three-toed woodpeckers, gray jay, Philadelphia vireo, Canada & mourning warbler (which nest in the area), pine siskin, and white-winged crossbill.
Monday, July 6, Day 4:
We will explore additional nearby areas with diverse boreal forest, marsh, and bog habitats. Options include Silver Lake Bog (Nature Conservancy property), Tupper Lake Marsh, or Sabattis Bog. Gabriel will decide based on walking conditions and the latest bird sightings, but no matter where we go, it will be beautiful! We will have lunch in Lake Placid before heading back to NYC, arriving at around 8pm (depending on traffic).
* This work is licensed under a Creative Commons Attribution License, available at
creativecommons.org/licenses/by/4.0
.